AIR TRANSPORT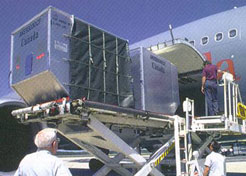 Worldwide coverage through the main air lines.
Air transport is idoneous for goods they are limited by volume and weight, urgent, perishable or of high value.
GTFco has a net of agents net throughout the World and agreements with the main air line companies within allow us to supply a worldwide service. GTFco also does haulage deliver or pickings up goods from/to any agreed location.
COMPLEMENTARY INFORMATION